Hopefully you have noticed this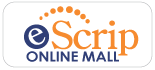 on the side bar and are wondering "What's this all about?" Well! Let me fill you in. The online mall is a GREAT way for you to have eScrip donate to the Lynden Music Boosters while you do your normal, everyday online shopping. There are over 1,000 merchants and the percentage they donate varies but as we have learned from the Safeway eScrip program, every little bit helps and adds up.
The ONLY catch is that you need to start your shopping one of three ways.
1. Start
here
:
http://www.shopping.escrip.com/
and sign up as a registered supporter
2. Click on the link on the sidebar and click the "shop now" button
3. Click on the link on the sidebar and click on the "Download AutoEARN" button. The program that this downloaded on the computer automatically knows when you shop at eScrip merchants.
Now, no worries about any spam or virus' being put on your computer. eScrip is a reliable and safe site.
You shop from the same websites you know and trust and pay exactly the same price.
The specific items you buy are not recorded in any way, just the total you spent from each merchant to calculate the earning to be donated.
With the holidays coming up be sure to visit the
whenever you shop so we can earn every time!